Product Test Results

The following products have been tested with our comments as noted. If you have a garden or kitchen related product you would like us to test and evaluate, please send us an e-mail for shipping instructions. The list below is alphabetical by category.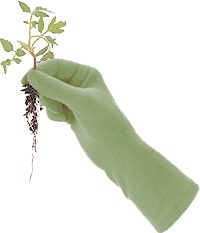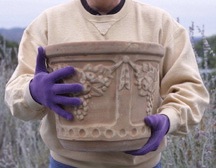 Gloves:

Foxgloves

P.O. Box 367

Cold Spring, NY 10516

(888) 322-4450

(845) 831-7300

(845) 831-7301 fax

Before I began to wear Foxgloves, I swore that I would NEVER allow a pair of gloves to come between me and my beloved earth, but Foxgloves changed my mind set. These supple gloves give me so much flexibility that I can pick up a plant label or tiny seed without having to remove them. Despite their light weight, they are remarkably sturdy, and now my hands are healing and looking passably acceptable (I used to hide them). I keep one pair of Foxgloves clothespinned right outside my kitchen door, the other clipped to the wall outside my potting shed door so they are always within reach. Sharon



Kitchen:

Cutting Boards

Epicurean Cutting Surfaces®

(866) 678-3500

We fell in love with the parchment paper look, feel, durability and the light weight of these great cutting boards. They are so handsome that I can use them as cheese and fruit serving pieces right on our table. After each use, I just tuck them into the dishwasher for a good cleaning. I could live with kitchen counters made of these (counter tops are available with material made from Richlite). Sharon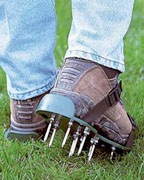 Shoes:

Aerator Sandals

128 Intervale Road

Burlington, VT 05401

Toll-free phone for orders: (888) 833-1412

Toll-free phone for customer service: (800) 876-5520

I enjoy roaming the garden in my nifty aerator sandals. I wear these in newly prepared planting beds, then just toss my seedlings into the polka-dotted soil.

Stressed, highly used and compacted lawns are a target for unwelcome invaders such as cutworms, grubs of Japanese beetles, webworms and armyworms. Just water your lawn deeply as needed (not just daily dribbles), use a dethatching rake and dance the cutworm cha-cha across your lawns late at night as your neighbors sleep.

Some researchers feel that the aerator sandals actually compact rather than aerate the soil, but I find them to be helpful. Try it yourself and let me know what you think.
Sharon


Tools:

UpRoot ™ Weeder Item #: 78706935

Fiskars Brands, Inc.

Garden Tools & Accessories

780 Carolina Street

Sauk City, WI 53583 USA

(800) 500-4849

I took one look at this behemoth and immediately asked my friend and garden professional Peggy Phillips to give it a try. I think this might be a bit of over engineering for something as simple as a weed. I use a propane torch, boiling water, a stirrup hoe, or dandelion grubber to wipe out weeds. Just remember to remove all the root, and remember that dandelions are a great green to include in your salads (don't ever eat a dandelion that has been sprayed with an herbicide). Log onto Henrysfarm.com for some good recipes. Sharon

We don't have dandelions, so we're having a a professional gardener test this for us. We like Fiskar products, but this seemed confusing to us and a much too big tool to use for the job. But, if one has difficulty getting down on the ground or bending over, then the long handle will make it easier to pull weeds–if you can figure out how it works. Jeff


Watering:

Coppersmith Rain Wand

Dramm Corporation

2000 North 18th St.

P.O. Box 1960

Manitowoc, WI 54221-1960

(800) 258-0848

(920) 684-0227

(920) 684-4499 fax

Okay, I'll admit it. Originally, I fell for these wands because they are so good looking. They are scultptural just sitting in my tall galvanized bucket on the potting bench.

I use this wand to water all of my containers and to water the base of my fruit trees. Good flow and easy to direct, but use caution when watering seedlings; the flow can be too powerful. Sharon